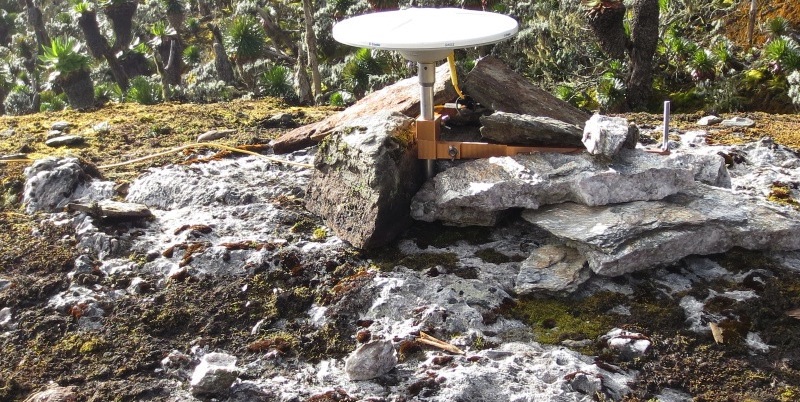 GNSS site in Rwenzori Mountains, Uganda
Our work entails measuring the Earth's surface motions with millimeter precision and using computational modeling to understand the physical processes driving Earth's volcanoes, earthquakes, and continental deformation.
Congratulations Jessica Schobelock for earning your Msc degree!!! GTL's first graduate!
Welcome Program Coordinator Johanna Vaughn!
Welcome Selim Oduk, undergraduate in aerospace engineering as an undergraduate researcher.
Congratulations Laboratory Assistant Lidia Guerra for getting a summer semester program in DC this summer!
Congratulations Undergraduate Researcher Sean Malloy for obtaining a UNAVCO summer internship.
Congratulations PhD student Josh Jones for obtaining a UCAR summer internship.
Msc student Jessica Schobelock presented a poster at the 2018 Seismological Society of America meeting in Miami, FL. Good job earning the SSA travel scholarhip!
Stamps gave a CIG Distinguished Lecturer presenation at Hampton University.
2018 Nature: Scientific Reports paper on a Geodetic Strain Rate Model for the East African Rift System
Welcome undergraduate researchers Sarah Morgan and Ryan Roane Spring 2018!
GTL welcomes Jared Guzman as an undergraduate researcher until end of Fall semester 2017!
Welcome Research Scholar Dr. Rui Xu from the Sichuan Earthquake Bureau, China.
GTL members represented the laboratory in the Virginia Tech Department of Geosciences, GeoFair and Mineral Sale.
GTL researchers presented at the 2017 Virginia Tech Undergraduate Research Mixer
Research featured in National Geographic Society story 'Mountain of God' preparing to Erupt.
Virginia Tech Department of Geosciences welcomes new Department Chair Professor Steve Holbrook
The Geodesy and Tectonophysics Laboratory welcomes new PhD student Emmanuel Njinju Fall 2017
Stamps became a 2017-2018 NSF Computational Infrastructure for Geodynamics Distinguished Lecturer
Stamps awarded 2016-2017 EarthCube Community Service and Leadership Award
$1.4 million transdisciplinary NSF EarthCube Integration project approved for funding and led by our group
Josh Jones promoted to PhD graduate student
Short-course and keynote at the 2017 AfricaArray Meeting
The Geodesy and Tectonophysics Laboratory welcomes undergraduate researcher Ms. ThaoVy Nguyen
The Geodesy and Tectonophysics Laboratory welcomes undergraduate researcher Mr. Sean Malloy